As part of The Dolphins' commitment to the respectful acknowledgement of the Traditional Owners of the land on which they play, the NRL Indigenous Round jerseys for the next three years have been designed as a trilogy that celebrates the local First Nations peoples, Country, and stories of buangan [pronunciation: boo-un-gahn] or dolphins.
The jerseys feature parts of a specially commissioned artwork by acclaimed Sunshine Coast artist Lyndon Davis, a Traditional Custodian of the Gubbi Gubbi /Kabi Kabi people, titled 'The Calling of the Dolphins'.
As Lyndon explains:
"Here in Quandamooka Country (Moreton Bay), Aboriginal people used an ancient hunting practice to lure in the large schools of mullet closer to shore.
By slapping the water in a particular pattern to create water percussion, and grinding their spears into the sandstone along the water's edge, we communicated with the dolphins, who would hear these calls and drive the mullet to shore where the people were waiting with spears and nets.
The dolphin was never hunted by the Gubbi Gubbi / Kabi Kabi and was always there to share in the catch.
Family groups of local pods of dolphins would respond and recognise the calls of Aboriginal families / clan groups.
There were different families of dolphin connected with different families of Aboriginal people, with stories of 'calling of the dolphins' spread across the Sunshine Coast, Minjerribah (Stradbroke Island) and Meanjin (Brisbane) clans.
This artwork represents those connections, the calling and the special relationship that has existed for thousands of years." 
Different elements of the artwork (which is also featured in full in The Dolphins' Acknowledgement of Country video) are featured in the jerseys over three years, with the colours for each year drawn from The Dolphins' traditional brand palette to represent and pay tribute to the Traditional Owners and their Country.
The 2023 Indigenous jersey is a powerful symbol of the enduring connection between the buangan and First Nations peoples, and provide a new layer of meaning to The Dolphins.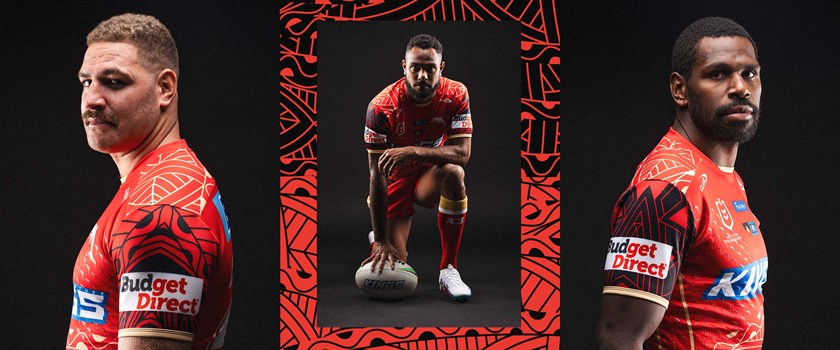 You can now order the 2023 Indigenous Round jersey from shop.dolphinsnrl.com.au