The Dolphins NRL Club are proud to announce the signing of Adventure Kings as their Principal Sponsor for the next four years, commencing immediately, in an historic deal for the NRL's 17th club. 
Adventure Kings is delighted to be involved with the Dolphins as they embark upon their inaugural season in the NRL in 2023 and beyond. 
Adventure Kings is an Australian owned and operated company, and specialises in the best 4WD, camping and outdoor leisure gear. 
The Dolphins have already announced Wayne Bennett, the most successful coach in the history of the game as the Dolphins inaugural head coach. The Dolphins can now add Adventure Kings to a powerful combination as they begin their journey into the NRL.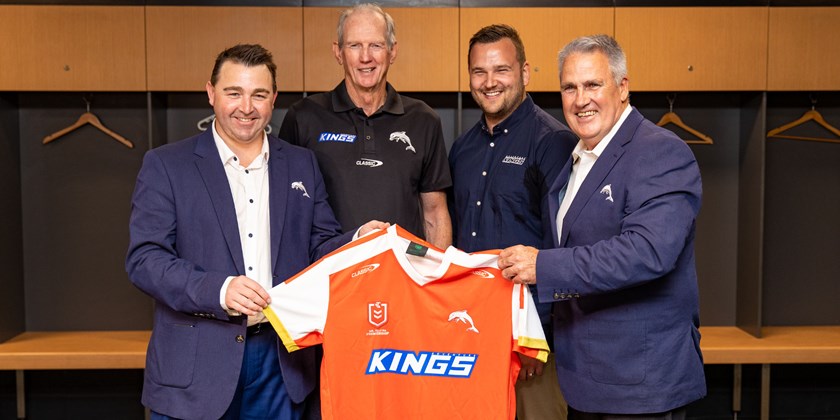 Like the Dolphins, Adventure Kings started small but have dreamed big. From humble beginnings Adventure Kings has gone on to become one of the industry leaders in 4WD, camping and outdoor leisure gear. 
The Dolphins hail from the stunning Brisbane, Moreton Bay and Sunshine Coast regions of the South-East Queensland's northern corridor, where camping and leisure activities are just as popular a past time as the great game of rugby league. 
Speaking on the partnership, Adventure Kings CEO Christian Rolfe said the Kings were a perfect fit with the NRL 17TH team and fan culture. 
"We see great synergy in the shared values with the Dolphins. Similarly, to the Adventure Kings story as a brand, the Dolphins have built their success on a dream followed by years of hard work and a love for the Australian community's favourite past times.
"The Dolphins are only beginning their journey and Adventure Kings is looking forward to bringing the NRL partnership to life. Adventure Kings expects a long and successful association as the Dolphins as they no doubt rise to be one of the kings of the NRL," Mr Rolfe said. 
Adventure Kings is one of the largest and fastest-growing outdoor brands in the Asia-Pacific region, with 19 company-owned stores and 50 stockists across Australia and New Zealand. 
As Principal Sponsor Adventure Kings will be the Dolphins front of jersey sponsor as well as a sponsorship association which will filter down to our Redcliffe Dolphins juniors and our QCup teams. 
The Dolphins NRL CEO Terry Reader said Adventure Kings represented everything great about our region and were a brand that the NRL's 17th team were proud to be associated with. 
"Signing with the Dolphins prior to a licence even being granted is a testament to the faith that Adventure Kings have in the Club," Mr Reader said.