Both the Capras and Redcliffe turned it on for big wins in Country Week this weekend.
CQ Capras 46 defeated Ipswich Jets 6
Brenko Lee returned from injury but picked up a hamstring injury after a short stint
Fullback Blake Moore scored a hattrick and kicked a conversion for a 14-poin haul
JJ Collins racked up 169 metres with more than half of those in post contact
Lachlan Hubner topped the run metres with 234 coming off the bench
Was their biggest win of the season, beating out the 34-0 win over the Devils in Round 5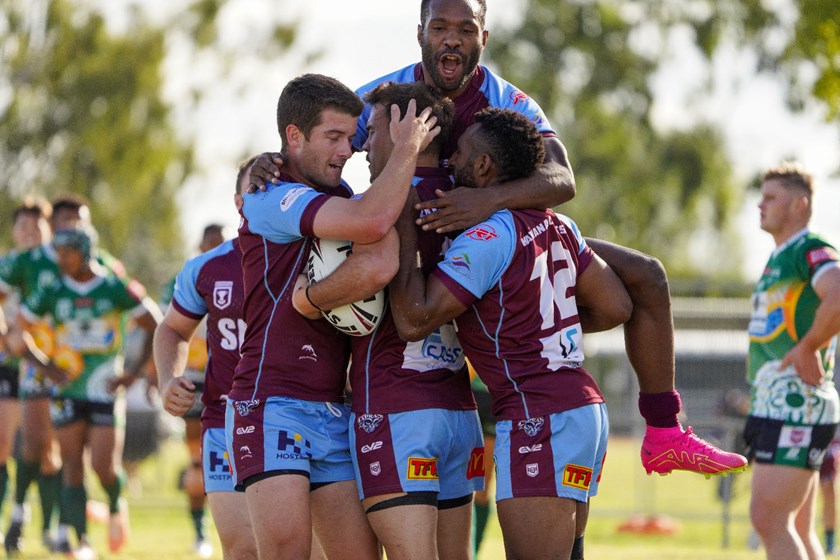 Wha the Coach said
"The team really enjoyed going out to Biloela for Country Week. The Capras are very appreciative of the hospitality shown by the Biloela Panthers Football club and the general community. The community went above and beyond to make the game go ahead this weekend and the boys wanted to put in a really good performance for them.
"Lachlan Hubner did a great job up front along with Kurt Donoghue in the middle, unfortunately Brenko reinjured his hamstring but gave an opportunity for Zev John to replace him and had a great contribution to the win.
"Blake Moore grabbed a second half hattrick to cap off a really good performance also." - CQ Capras Coach Lionel Harbin
Up next for CQ Capras
The Capras sit in outright sixth position and will head to Toowoomba to face the Clydesdales (13th) on Saturday afternoon.
Redcliffe Dolphins 38 defeated Burleigh Bears 6
Fullback Trai Fuller bagged a hattrick and topped the metres with 173
Both Tesi Niu (centre, 144 metres) and Josh Kerr (prop, 89 metres) dropped back from NRL duties
Winger Brenton Baira took up kicking duties slotting five conversions
The first time Redcliffe have scored more than 30 points since Round 13
What the Coach said
"It was a great trip out to Miles for Country Week. They really looked after us well and turned out in numbers for a great game." - Redcliffe Dolphins Coach Ben Te'o
Up next for Redcliffe
Redcliffe have jumped the Tigers into fourth spot with a higher points differential and get the week off with the bye. The following week Redcliffe will face the Hunters (11th) in PNG.