Seventy double passes were raffled for last month's sold-out 'Battle for Brisbane' match between the Dolphins and Broncos to raise funds for a Redcliffe family who escaped war-torn Ukraine. 
In 24 hours, the community rallied to raise $10,000 for members of the Torchinska family in a bid to help reunite them with a beloved husband and father who remains in Ukraine and help with living expenses. 
Leading community developer and home builder, Ausbuild, donated 70 General Admission Double Passes, valued at $5,600, to be raffled for the sold-out match at Suncorp Stadium on Friday 24 March. 
Ausbuild Joint Managing Director Matthew Bell acknowledges the outpouring of support from the local community that helped surpass their original fundraising goal.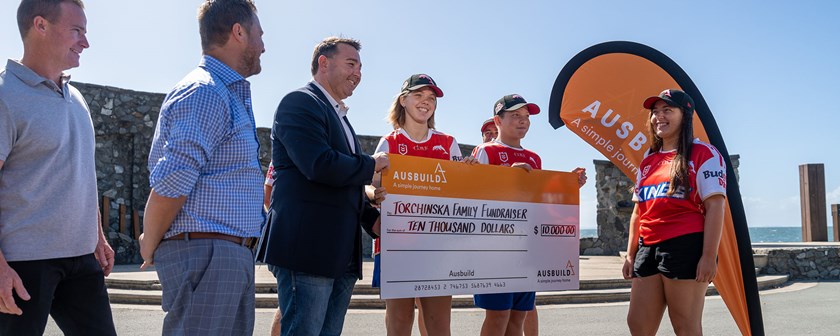 "As community partner of the Dolphins, we are privileged to be in a position to connect with the local community and raise awareness of social issues impacting our region and its families," Mr Bell said. 
"The incredible generosity from the local community that dug deep to help this family has been overwhelming and epitomises true community spirit," he said. 
Dolphins NRL Chief Executive Officer Terry Reader said The Dolphins are very proud of the role they play in the local community to assist wherever they can. 
"It is even more rewarding when we are able to work with a partner like Ausbuild to help make these things happen," he said. 
Three generations of the Torchinska family fled Ukraine in 2022 and arrived in Moreton Bay with few possessions. 
Sasha Torchinska, mum of two and the only family member able to work in Australia acknowledges the support the family has received from Moreton Bay since arriving in the country. 
"Thanks to Ausbuild and DB Roofing, our family of five, have been able to make a home for ourselves in Redcliffe and enjoy new experiences like going to the football for the first time," Mrs Torchinska said. 
"We've been overwhelmed by the support and generosity of the community, and the money raised from the Ausbuild raffle will go a long way with helping us cover living expenses and helping reunite our family," she said. 
Information on the Torchinska family and to donate go to https://www.mycause.com.au/p/282428/olenas-ukrainian-family-fundraiser